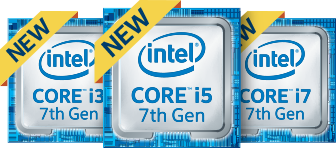 New 7th Gen Intel® Core™ i7 processors deliver everything you need for a revolutionary gaming experience. Whether you want to boost performance, experience the latest in overclocking, or upgrade with room to add on later, you won't be disappointed.
POWERFUL
Built for those who want to experience gaming, VR and 4K content as intended, Intel® Core™ i7 processors offer the latest technologies to deliver your next gamer-grade upgrade.1
CUSTOMIZABLE
Move to a more customizable setup with unlocked Intel® Core™ i7 processors and gain up to 28% better performance2 versus a 3-year-old desktop PC as a result. Thanks to new expanded overclocking3 modifiers, you can dial up your clock speed with unprecedented precision and control.
7th Gen Intel® Core™ i5 & i7 Processors
Processor Number

Cores/

Threads

Clock Speed

(Base Frequency, GHz)

Max Turbo

Frequency (GHz)

Intel® Smart

Cache (MB)

Max # PCI

Express* 3.0 Lanes

Recommended

Chipset

Memory

Support/

Capacity

i7-7700K

4/8

4.2

Up to 4.5

8

16

Z270

2 channels
DDR4-2400'/
DDR3L-1600

i7-7700

4/8

3.6

Up to 4.2

8

16

H270

2 channels
DDR4-2400'/
DDR3L-1600

i5-7600K

4/4

3.8

Up to 4.2

6

16

Z270

2 channels
DDR4-2400'/
DDR3L-1600

i5-7600

4/4

3.5

Up to 4.1

6

16

H270

2 channels
DDR4-2400'/
DDR3L-1600